On March 21-22, the "All Quality Matters" Award Ceremony & Solar Congress 2019 hosted by TÜV Rheinland was held in Suzhou. At this top solar stage, Growatt MAX series 80kW inverter won the Award of PV Inverter for Commercial Use with excellent quality and high functionality, ranking first of commercial inverters. At the event, MAX is the only C&I inverter that has won this honor.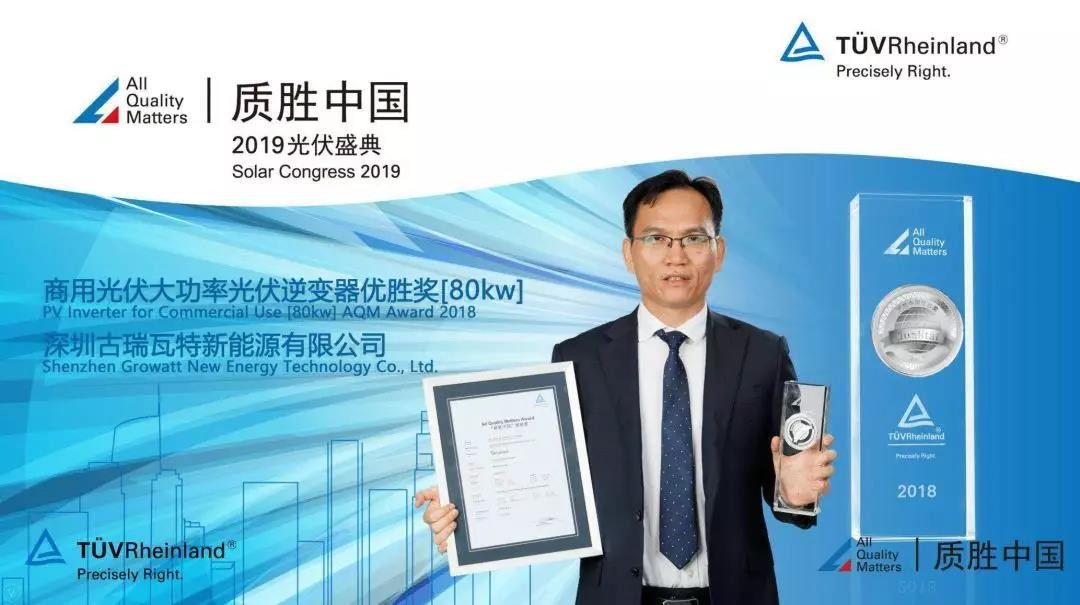 Quality, the Accelerator of Technological Innovation
Since its foundation, Growatt has treated quality as the basis for the survival and development of the company. With our belief in quality and innovation, we have established a strict quality control system of five quality engineering projects: design engineering, component engineering, testing engineering, reliability engineering, and manufacturing engineering. For each new product, it requires hundreds of verifications and various long-term tests to simulate the real harsh environment; the components are carefully selected, and the key components adopted are all top brands. With internal standards higher than national standards, industry standards, and international standards, we provide quality products to consumers around the world.
Leading C&I Sector, Setting a New Benchmark
With a number of innovative technologies, the MAX series of PV inverters surpass other brand inverters in the TUV test in efficiency, electric power quality, output capability and environmental adaptability are fully won in the TUV test.
High efficiency: The highest efficiency is over 99%, and China's weighted efficiency is over 98%.
High power quality: current harmonics of 1.12%, far below the 5% standard of the inverter.
Strong output capability: MAX can output at 1.1 times, which can increase the PV input capacity and support high efficient and bifacial modules.
Environmental adaptability: Even in a high temperature of 60 degrees, MAX can still operate at its full capacity.
The MAX 60-100KTL3 LV/MV series of PV inverters improve the power generation efficiency, environmental adaptability and O&M monitoring capabilities of photovoltaic systems, and have been recognized by global consumers with outstanding performance.
MAX 60-100KTL3, China's Most Efficient Record Holder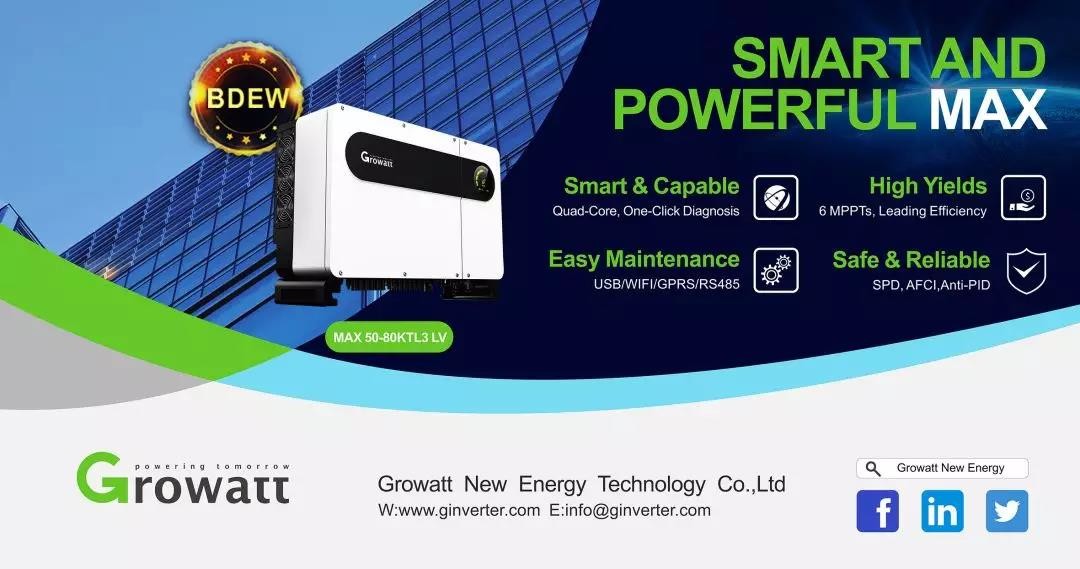 The Growatt MAX 60-100kW quad-core smart inverter's maximum efficiency reaches 99%. China's weighted efficiency has been certified by CQC to be 98.67%. It is currently the most efficient record holder in China.
MAX's biggest advantage is the use of quad-core architecture with dual DSP, CPLD and ARM. The information and protection response speed has been doubled. Its One-Click Diagnosis will quickly scan the grid and PV system, and accurately locate the cause of the fault. Such smart function will reduce the O&M cost.
MAX adopts 6-7 MPPT. Its maximum current for each string is 12.5A and it can reduce the loss of string mismatch. It has no DC fuse, a maintenance-free design eliminates wearing parts. It comes with AFCI protection, and will accurately identify the arc signal on DC side and response in time to avoid fire. It's safe and reliable!
Energy1 news, your faithful partner.
FAST,EFFICIENT,PROFESSIONAL
Mobile: 0086 183 2141 1670