Recently, Bloomberg New Energy Finance (BNEF) released the report of "Solar Module & Inverter Bankability 2019", which focuses on the financing value of the world's leading PV industry manufacturers. With its solid financial performance, reliable product quality, and good corporate reputation, Huawei, Sungrow, Ginlong ,and Toshiba-Mitsubishi are among the top 4 brands in Asia in terms of financing.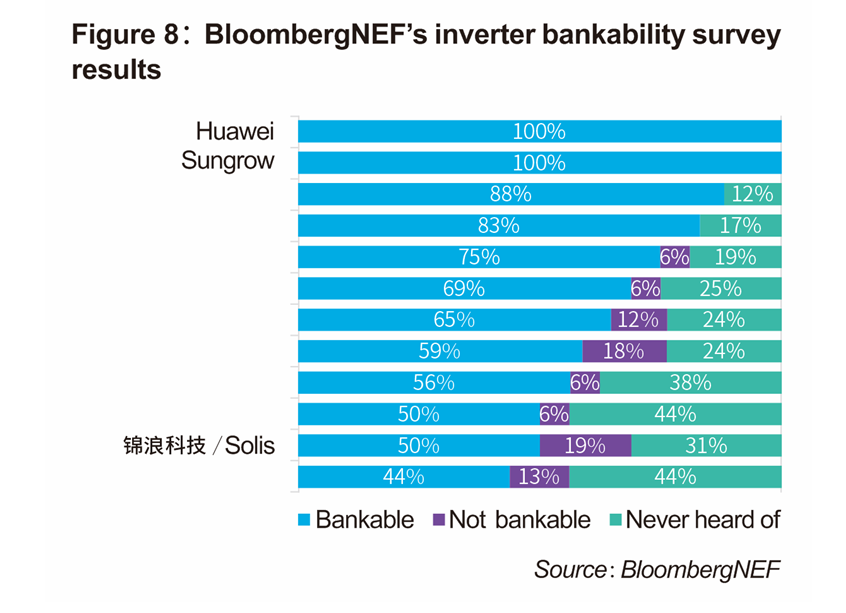 Bloomberg New Energy Finance (BNEF) is one of the most credible third-party research institutions in the global new energy market. As a professional research organization, a leading provider of global business and financial information, Bloomberg regularly publish various professional analysis reports on renewable energy fields, which have long been widely used by many international financial institutions as an important reference to the credit business..
"Bank financing" represents the debt financing of the solar projects for whether it can obtain bank recourse. Bloomberg New Energy Finance also tracked the completion of transactions by each manufacturer as a basis for its conditions through its comprehensive database. At the same time, BNEF investigated whether the companies can finance funds from banks during the time range of the transaction. Due to the strict qualifications, it is often used as a fair, objective and credible material for industry analysis such as production forecasting and analysis of major competitors.
The selection report released by BNEF is mainly aimed at the financing value of the world-renowned PV inverter manufacturers. BNEF sent questionnaires to PV industry stakeholders such as global financial institutions (banks, funds), project developers (EPCs), independent power production operators, and talked to quality inspectors and technical experts, covering 25 GW's photovoltaic products.
For more information, please contact nengyuanyihao@126.com